So i was getting smashed last night and wanted to watch some boxing. I popped in the classic Albert Sosnowski vs. Danny Williams and rewatched that for like the 20th time
Albert Sosnowski TKO8 Danny Williams
Why would this win rank as one of my favorites?
Well for starters, Sosnowski is a amateur-less boxer who was coming off a embarrassing loss to Lawrence. He just came to England and fucked this Muslim boy up!!! When this happened i couldn't believe it that he did it! It was a great win for Sosnowski and it put him back on the map of contendership.
Sosnowski now is the European Heavyweight Champion, his next fight fighting a Olympic Gold Medalist, Audley Harrison.
Can't wait for this bad boy!!!
Heres a cool article that I wrote about Albert if anyone is interested
http://www.eastsideboxing.com/news.php?p=22630&more=1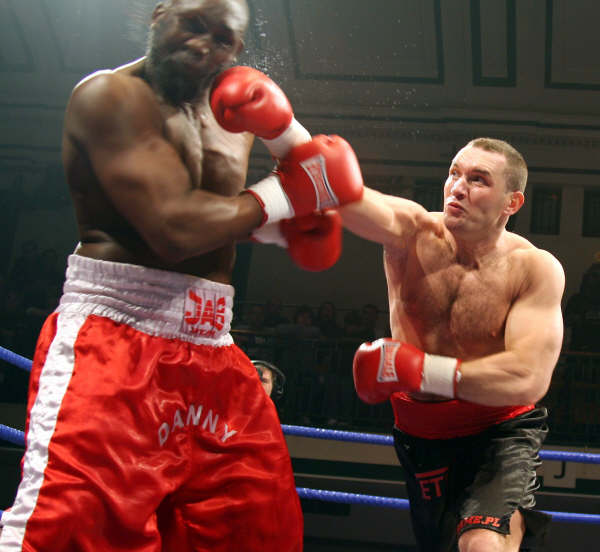 Wladyslaw Kozakiewicz Over Konstantin Volkov
Another Polish underdog victory that I have always admired, was one by one of my all time favorite Polish Athletes, Wladyslaw Kozakiewicz.
I remember when I was a little kid and I was watching old recorded videos involving Polish sportsmen. They were showing a lot of historic Polish athletes. It was interesting, but Kozakiewicz took my eye right away no doubt. This dude was a Pole Vaulter and one of the best in Polish history, and one of my favorite Sports Heros in history. Seriously speaking, before I die, I wish I can meet this man and have the honor to shake his hand.
WK was a well respected and good Pole Vaulter prior to the Olympic Games in 1980. Him and Tadeusz Slusarski were the Polish hopefuls in the competition. WK already at one point held the world record, prior to it being broken by 2 other men 1 month later.
He went to the Moscow Olympics in 1980 where he, along with Slusarski, competed for Poland in Pole Vaulting. The heavy favorite in the competition was Konstantin Volkov, who was on his home turf in a very much pro crowd. The crowd made WK feel the discomfort of un-wantingness whilst he competed like the Polish Hero that he is.
As the competition progressed, Koza was facing Volkov for the Gold metal. After a failed attempt from Volkov, WK went on and smashed.
Koza's first vault he made 5.70m high and on his second attempt he made 5.78m, which was a new world record!!!!!!
Kozakiewicz was at this point delighted and full of happiness over the fact that he overcame the odds and won the Gold! The hospitality from the Russian crowd was very anti-Kozakiewicz throughout the whole competition due to the hometown favorite in Volkov.
After the most famous Pole-Vaulting jump in Polish History, and possibly one of the biggest upsets, the Polish Hero, Kozakiewicz showed his passion and expressed his thoughts towards the Russians by showing them what HE REALLY THOUGHT:
The gesture, not only took huge BALLS, which Koza had, but it also showed the passion, the willingness, and the proud stature of this man towards Polska and us Polish fans supporting this great man.
This man not only overcame the odds, but also perfected it by setting a new world record on Russian turf, where he was heavily criticized by Russian supporters of Volkov, and by expressing his true feelings over the Russian bastards.
Seriously, brings a damn tear to my eye everytime I pop in that footage in my VCR. 8)
In 1978 he came fourth at his second European Championships in Prague, but his best year was definitely 1980. On 11 May 1980, Kozakiewicz set a new world record of 5.72m at Milan, only two months before the Moscow Olympic Games. At Moscow, Kozakiewicz was invincible clearing every height at his first attempt until victory was assured, despite the unsportsmanlike jeering from the partisan Soviet crowd who were supporting the Soviet vaulter Konstantin Volkov. No other vaulter could make the 5.70m height which Kozakiewicz cleared on his first attempt, before clearing a new world record of 5.78m on his second attempt at that height.
Heres a cool commercial of him hahha
http://video.google.co.uk/videoplay?doc ... &plindex=2
#
I couldn't find the Moscow Olympics footage of him, but is someone can, please post...
Anyways, those are just 2 off the top of my head, who are some of your favorite Polish Underdog wins?
Honorable Mentions: Poland > Portugal Euro Qualifiers, Adamek over Cunningham, Krzysztof Wlodarczyk over Vincenzo Rossito, Poland > Italy 74' 2-1 WC(Sczarmach's historic header)